Adult (18+) - Detroit Pistons 2020 3-on-3 Tournament Basketball

2020 Detroit Pistons 3-on-3 Tournament
Test your basketball skills at the Detroit Pistons Outdoor 3-on-3 Tournament, which will take place Saturday and Sunday August 8-9 from 9am-6pm at Little Caesars Arena
Registrations
Each team will play three games followed by a single-elimination tournament. All teams are guaranteed at least four (4) scheduled games. All participants are guaranteed to play both Saturday and Sunday. Each team is allowed up to five (5) players. With your registration, you'll also receive one ticket per player to a Detroit Pistons 2020/2021 home game, a T-shirt, and a sling bag. All men's college basketball players and boys' high school basketball players ranked in the top 100 of their class nationally are not permitted to register.
REGISTRATION DEADLINE: August 4, 2020 - 11:00 am

Location
All games will be played outdoors at Little Caesars Arena, 2645 Woodward Ave, Detroit 48201
Prizes
Each registered player will receive an official Detroit Pistons 3-on-3 T-Shirt.
Trophies will be awarded for Youth Division winners (18 & under)
Championship T-shirts for Adult Division winners (19 & over)
All Winning team members will receive a custom Detroit Pistons 3-on-3 Tournament basketball
All participants will receive a ticket voucher to a select 2020-2021 Detroit Pistons home game.
FAQ

Food and Snack are permitted for players (No Soakable fruit)
Factory sealed water, factory sealed sports drinks and empty plastic water bottles are permitted for players
NO Glass or metal water bottles
Soft sided coolers smaller than 14"x14"x6" are permitted
Folding bag chairs no higher than 12" from the ground are permitted
Single pocket drawstring backpacks are permitted
Backpacks and pop up tents are not permitted on site
Rules

Rules.pdf
Contact

Contact@hoopitup.com
or call 888-831-2480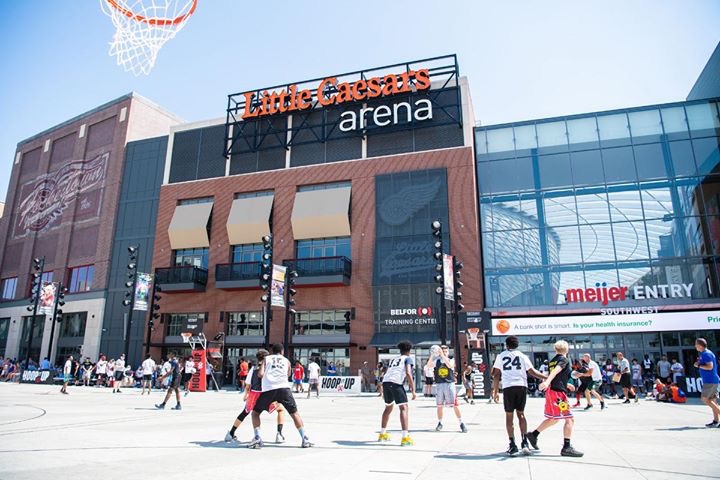 Team Fees

Regular

$140.00 per team + Transaction Fee

Team Fees

Regular

$140.00 per team + Transaction Fee

Team Fees

Regular

$140.00 per team + Transaction Fee

Team Fees

Regular

$140.00 per team + Transaction Fee

Team Fees

Regular

$140.00 per team + Transaction Fee

Team Fees

Regular

$160.00 per team + Transaction Fee

Team Fees

Regular

$160.00 per team + Transaction Fee

Team Fees

Regular

$140.00 per team + Transaction Fee

Team Fees

Regular

$50.00 per team + Transaction Fee

Team Fees

Regular

$140.00 per team + Transaction Fee