Adult (18+) Circuit of The Americas Hoop It Up ATX 3-on-3 Basketball Tournament Basketball
Circuit of The Americas Hoop It Up ATX 3-on-3 Basketball Tournament
2021 Circuit of The Americas and Hoop It Up bring you the world famous basketball 3-on-3 tour on COTA's famed front stretch May 8-9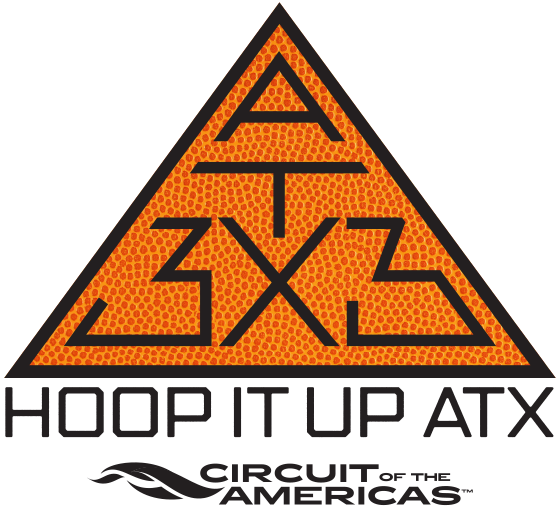 Registrations:
Each team will play three games followed by a single-elimination tournament. All teams are guaranteed at least four (4) scheduled games. All participants are guaranteed to play both Saturday and Sunday with playoff's being on Sunday. Each team is allowed up to five (5) players.
REGISTRATION DEADLINE: May 4, 2021 - 9:00 am

Location:
Circuit of Americas: Home of the World Championships: 9201 Circuit of the Americas Blvd, Austin, TX 78617
Prizes:
Men's Top Gun 1st place: $3000 cash prize (Minimum 6 teams)
Women's Top Gun 1st place: $3000 cash prize (Minimum 4 teams)

All participants will receive a custom Hoop It Up ATX t-shirt.
All divisional winners will receive a trophy.
About Hoop It Up:
Founded in 1989, Hoop It Up is recognized as the most prolific grassroots basketball tour in the world with millions of participants having played in one of its city-based events. Hoop It up is the original 3x3 basketball series that elevates the game with its focus on fundamentals, scale of the city courts, and speed, style and substance of the 3x3 format delivering participants a memorable experience. In 2020, 3x3 basketball will be introduced to the Olympic Games in Tokyo, Japan and Hoop It Up will be a key catalyst in the development of the Game. Hoop It Up is owned and operated by Big Ticket Sports LLC, a company founded by NBA and Olympic Champion Kevin Garnett.
ABOUT NEIGHBORHOOD SPORTS AND CIRCUIT OF THE AMERICA'S:
Experience the unfiltered thrill of being alive at Circuit of The Americas, in Austin, TX. Feel the rush of the world's greatest drivers competing in motorsport's biggest events. Get lost in the music of the hottest musical acts as they perform live at Austin's largest outdoor music venue. Take charge of your own 602 horsepower race car as part of our exciting driving experiences. Experience the thrill of racing others at the COTA Karting track. Inspire your most valuable stakeholders in our expansive meeting and hospitality spaces designed for large groups and private or corporate events. At Circuit of The Americas there is fun at every turn.
Rules:


HIU Rules.pdf
Contact:
Contact@hoopitup.com
or call 888-831-2480
REFUND POLICY / BAD WEATHER POLICY
There will be no refunds granted unless there are not enough teams to complete your age division. This includes, but is not limited to 1) Your team's inability to participate due to player injury, personal schedule or
game scheduling conflicts, team drama, or other reason; 2) inclement weather, etc. In case of inclement weather, the Event Director reserves the right to reduce the number of scheduled games and/or the time of games and/or postpone or delay game times and/or cancel the Event. Every effort will be made to complete games.
GENERAL RULES
1. Teams can consist of three, four or five players: three starters and one or two substitutes.
2. All players must be age 7 or older.
3. Adult teams (at least one player over age 18) will be placed into divisions based on similar height and average age of all team members on roster. Youth divisions are grouped based on the oldest player on the team.
4. No roster changes may be made after a team starts its first scheduled game.
5. All teams are guaranteed at least four (4) scheduled games.
6. Games are played on a half court using Official Hoop It Up 3x3 rules.
7. Scoring: one point per basket; two points for shots made behind the designated 20-foot line. First team to 20 points wins; OR the team ahead after the 25-minute time limit wins. Possession alternates after each made basket.
8. Hoop It Up reserve the right to verify any player's height or age. Inaccurate information is grounds for immediate disqualification of the entire team. EACH PLAYER MUST CARRY PERSONAL PICTURE IDENTIFICATION (birth certificate for minors).
9. Hoop It Up reserve the right to reduce the number of scheduled games, or shorten games, due to unforeseen circumstances.
Team Fees

Early Bird

$144.00 per team + Transaction Fee

Regular

$160.00 per team + Transaction Fee

Team Fees

Early Bird

$144.00 per team + Transaction Fee

Regular

$160.00 per team + Transaction Fee

Team Fees

Early Bird

$144.00 per team + Transaction Fee

Regular

$160.00 per team + Transaction Fee

Team Fees

Early Bird

$144.00 per team + Transaction Fee

Regular

$160.00 per team + Transaction Fee

Team Fees

Early Bird

$144.00 per team + Transaction Fee

Regular

$160.00 per team + Transaction Fee

Team Fees

Early Bird

$180.00 per team + Transaction Fee

Regular

$200.00 per team + Transaction Fee

Team Fees

Early Bird

$180.00 per team + Transaction Fee

Regular

$200.00 per team + Transaction Fee